Information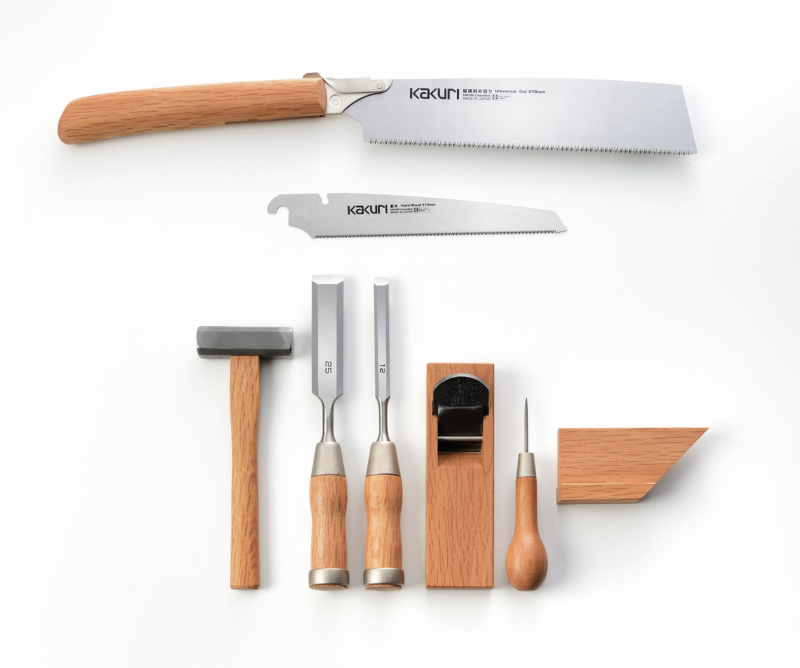 KAKURI Woodworking Tool Set "AKAGASHI"
This is the set of woodworking tools that Kakuri is known for. It includes chisels, a plane and a saw that have been admired by woodworkers and musical instrument makers in Europe. It also comes with other user-friendly tools.
The handles and plane stocks are made with the hard, sturdy wood of domestic red oak, and hand-finished by artisans. They perfectly fit the hands of their users. The tool boxes, which may remind you of the boxes carried on the shoulders of carpenters in old days, are made of light, sturdy paulownia wood. AKAGASHI is a good starter set for woodworking beginners, while PRECISION can satisfy the needs of professionals.

size(body):W490×H140×D220mm
material:Handle, Mitre Square: Red oak Saw, Chisel, Awl, Hammer: High carbon steel Plane: Laminated steel (High carbon steel and soft iron) Tool box: Paulownia
weight(body):3,000g
weight(gross):4,000g
price:¥80,000
designer:Mutuhiro Katou
manufacture:KAKURI WORKS LTD.